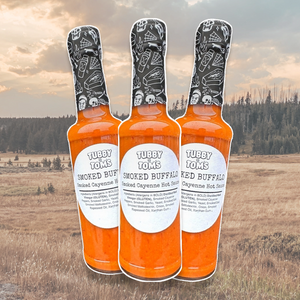 AS IF OUR BUFFALO HOT SAUCE COULD GET ANY BETTER?!?
 SO YOU KNOW HOW I'M OBSESSED WITH SMOKING STUFF? WELL WE GOT GIVEN SOME HOMEGROWN CAYENNE PEPPERS FROM OUR BUDDY DAN. WE DECIDED TO SMOKE THEM, ALONG WITH SOME GARLIC TO MAKE A SMOKED VERSION OF OUR AWARD WINNING BUFFALO SAUCE.
WHEN WE TASTED IT WE ALL CRIED. IT WAS THE BEST THING WE'VE EVER PUT IN OUR MOUTHS. THE EXTRA EFFORT WAS WORTH IT - TIME CONSUMING BUT IT GAVE SUCH A ROUNDED FLAVOUR TO OUR SAUCE. UNFORTUNATELY WE COULD ONLY MAKE A FEW BOTTLES, SO MAKE SURE YOU GRAB ONE AND LET US KNOW WHAT YOU THINK! 
Nutritional Info
Vegan Friendly
Ingredients (Allergens in Bold) : Smoked Cayenne Peppers, Onion, Garlic, Distilled Malt Vinegar (GLUTEN), Salt, Yeast, Smoked Maltodextrin, Xanthan Gum.